by Kelsey Cox
As a new law librarian (just shy of six months), I was very eager to attend my first AALL Conference and participate in the Conference of Newer Librarians ("CONELL").
My mentors had described CONELL as a fun, engaging, and rewarding experience where lifelong bonds would be formed. With such high regards and a reputation that preceded itself, I was curious if my CONELL experience would live up to this portrayal. And …IT DID!
My CONELL experience began on Friday July 12
th
when I participated in the "Dine Around Dinners" at Busboys and Poets—a vibrant restaurant (with a bookstore!). Besides the amazing food, this was a great opportunity to meet other law librarians and to get advice from two experienced AALL members. Tips for the upcoming conference included:
·
Session Etiquette
: Choose sessions that interested you. Don't feel obligated to go to every session. Leave sessions that you are not enjoying.
·
The Importance of Networking
—Meet everyone and make connections, as this could lead to new opportunities (e.g. collaborative work, hearing about new jobs).
·
Balance & Self Care
—Pace yourself. Take to time to rest and clear your head in between sessions.
·
Remain Professional­
—Avoid gossiping at social events. You never know who knows who.
Photo Curtesy of: BusboysandPoets.com
The connections I made at this dinner were valuable ones and would provide familiar faces to chat with the next day at the main CONELL event.
With these tips and a thick stack of business cards, I made my way to Salon H of the Walter E. Washington Convention Center early Saturday morning. After a brief breakfast and a warm welcome by the CONELL committee chair, Femi Cadmus (president of AALL) offered us some words of encouragement. She noted that the law library world is a collaborative profession and that we can grow individually through learning and sharing our experiences with others. "To Thrive, To Grow, To Network" were all themes she emphasized. Femi encouraged the CONELL Class of 2019 to get involved in AALL (e.g. volunteering on committees) and to push ourselves outside of our comfort zones. I appreciated her thoughts on being fearless with our career choices and always seeking to discover the "new you". It's important to continually grow and evolve and Femi suggested embracing change, rather than fearing it.
After her message, we were able to meet AALL's Executive Board through a question and answer session. A few points of interest were:
1.
Network Outside Of Your Profession:
Meet people with different ideas and ways of thinking. Develop your own knowledge and skill set. Cultivate expertise. Emphasize what you bring to the table. Attend programs outside of your practice area. Never think that you cannot do something.
2.
Get Involved:
Whether that be with special interest sections, committees, or chapters. Start small. Get your feet wet. You don't have to be an expert to join, other members will help you.
3.
Have Mentors:
Have people to look up to and guide you. Choose people outside of your institution.
4.
Imposter Syndrome:
Everyone feels this at some point. It is normal. We are always learning. Focus on the positives of who you are, what you bring to your job, and your successes. Take the pressure off of yourself to be perfect.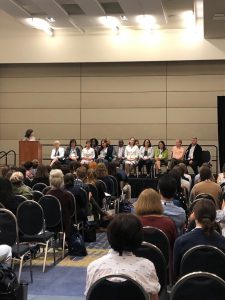 Photo Courtesy Of: AALL Twitter
After listening to these speakers' encouraging messages, the CONELL Class of 2019 was divided into two groups to 1) attend the Marketplace and 2) to participate in Speed Networking. I was first ushered into the Marketplace where 53 AALL groups (e.g. interest sections, committees, working groups) were set up around the perimeter of the space to eagerly recruit new members. There was a plethora of free swag including candy, chapstick, mini flashlights, pens, gavel pencils, penguin keychains etc. Business cards were flying as CONELL members entered prize raffles…which paid off for me as I won the book, Real World Mindfulness for Beginners by Sharon Salzberg, from the Mindfulness in Law Librarianship Caucus.
Soon after the Marketplace, I went to Room 103a for Speed Networking. This was one of my favorite parts of CONELL. With two rows of chairs facing each other, we had three minutes to get to know our fellow law librarians. We were given a list of questions as talking points, which included: What advice would we give to our younger self? Why did we choose to become a law librarian? If we could live anywhere in the world, where would it be? This was a fun (and loud) experience to network in a casual, informal setting.
After lunch and a brief break, CONELL concluded with a bus tour of Washington D.C. Our tour guide was informative and entertaining, constantly asking us trivia questions and providing us with tidbits of history. The highlights included seeing the Capital Building, the White House, the Lincoln Memorial, and the Washington Monument (pictured below).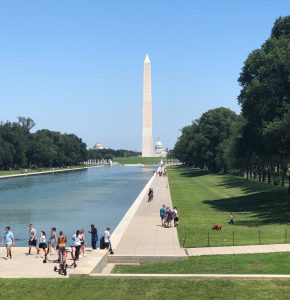 Overall, I had a wonderful and memorable experience; it was the perfect way to start the AALL conference. I am truly grateful to have been part of the CONELL Class of 2019!