submitted by Linda Tesar,
Interim Director/Head of Technical Services & Special Collections
Long-time VALL member Jim Heller officially retired on June 25, 2019 after more than 30 years as library director and professor of law at William & Mary Law School.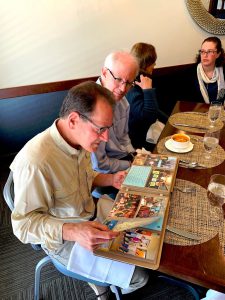 Jim at a retirement luncheon with his staff, looking through a scrapbook put together by staff - a law library tradition.
After earning his J.D. at the University of San Diego and his M.L.S. at U.C. Berkeley, Jim began his career as associate law librarian, head of reader services at the Jacob Burns Law Library, George Washington University National Law Center. He followed that position with short stints as director of the Dept. of Justice, Civil Division Library and director of the University of Idaho Law Library before moving to William & Mary in 1988.
Never one to sit on the sidelines, Jim built an enviable resume of organizational participation at every level of law librarianship. He served as president of VALL (1994/1995), SEAALL (1996/1997) and AALL (1998/1999), as well as chair of the Northwest Consortium of Law Libraries (1987/1988). He also participated in at least 20 different committees in those four organizations, leading as chair 18 times, including four times as chair of the AALL Copyright Committee.
Jim was equally prolific as a writer and speaker. At AALL meetings, Jim made 11 presentations over the years and coordinated or moderated 10 times. He spoke 12 times at SEAALL conferences and six times at VALL. He also presented more than 60 times at a variety of conferences and events including the meetings of the American Library Association, the British and Irish Association of Law Libraries, the Canadian Association of Law Libraries, the Medical Library Association, and the Virginia Library Association.
Jim complemented this long list of speaking engagements with a list of publications nearly as long. In the course of his career, he published three books – including two editions of The Librarian's Copyright Companion – three book chapters, 24 articles and more than 40 book reviews.
Even with all of this activity, Jim saved his best for William & Mary. Under his leadership, the law library consistently ranked as the best law school department in student surveys. From 2003 to 2007 Jim created one of the most popular spaces in the law school when he served as project manager and driving force behind the library's renovation and addition. Throughout his tenure, he oversaw multiple initiatives to improve library services and strengthen the reputation of William & Mary Law School.
Jim's legacy of innovations expanded beyond traditional library walls to include teaching (Legal Research, Law & Public Policy and Law & Literature), leading an early adoption of an institutional repository, the William & Mary Law School Scholarship Repository, and recreating George Wythe's library and developing its companion piece, Wythepedia. Shortly before he retired, Jim spearheaded the development of a timeline display

of the law school's

history (now hanging in the library) and the launch of its digital twin.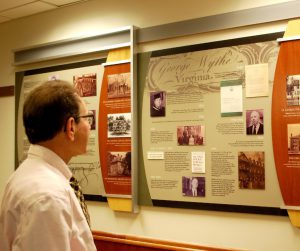 Jim enters retirement joyfully planning attendance at blues festivals and travels with his wife, Janet, who retired from her position as assistant library director of Williamsburg Regional Library on June 28th.
VALL members have a couple of opportunities to see Jim and wish him well in his retirement. Jim and his band, Winslow Ridge, will be playing at Cogan's Deli & Sports Pub in Williamsburg on July 12th. For those of you attending this year's conference in D.C., the band will also be playing at Madam's Organ in Adam's Morgan on Saturday, July 13th, from 6:30 to 9:00 pm. And on Tuesday, July 16th, at the Association Luncheon, Jim will be awarded the highest honor AALL can bestow, the Marion Gould Gallagher Distinguished Service Award.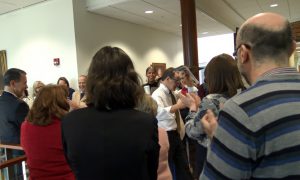 In a W&M law school tradition, Jim leaves his last class to applause from students, faculty and staff
Cheers to Jim! Best wishes for a very long and very happy retirement!