by Ashley Vavra
First, a highlight: AALL 2019's Thompson Reuters reception at the Library of Congress. I saw Dr. Carla Hayden speak, gawked at the art on the walls and ceiling of that beautiful building, and met dozens of friends-of-a-friend. I took an entirely unsophisticated number of photos.
That opportunity was just one exciting piece of a great few days, though. This was my first AALL conference, and people were right when they said newcomers are very welcome. I had my "First Time Attendee" ribbon on my name tag, and I think people read that as "New Kid: Be Nice To Me and Tell Me To Join Committees." No complaints here, and I'm very grateful for the VALL grant that made it possible for me to be there.
I am thrilled to say that I was part of this year's CONELL class. That started with the dine-around option on Friday, which was a fun way to get out and meet the other new people, as well as our two kind hosts, who have been around long enough to give us plenty of good advice. I met our CONELL cohort on Saturday, and decided the value of identifying a few familiar faces early on in such a big conference really can't be overstated.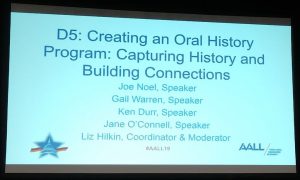 I also went to several sessions during the program. One of my favorites- and one that was most relevant for my work- was Creating an Oral History Program: Capturing History and Building Connections. The Supreme Court of Virginia has had an oral history program since 2007, and, as the new librarian-archivist there, the oral history program is an important part of my role. This session was especially useful because it brought together people from different environments with different goals, to talk about how their programs got to where they are and how they prepare for and conduct oral history interviews.
Some of the other sessions I attended:
·
Opening session: The speaker was Shon Hopwood, an appellate lawyer and a professor at Georgetown who spent time in prison some years ago for bank robbery. He told us the story of how he taught himself about the law in prison, wrote a brief for a friend that was accepted by the U.S. Supreme Court, and eventually went to law school and made a new life for himself. His talk was very well received by a packed ballroom full of people, particularly the parts about how resources sent by law librarians helped him get to where he is. (He was on 60 minutes if you want to look him up.)
·
How to be a leader when you're not a manager, or "Growing Out, not Climbing Up". Take-aways: Use professional associations to build connections and skills. Be flexible. Try new things in your own job. Become an expert at something, dive deep into research if that's what you enjoy. Collaborate. Choose new markers of progress in your professional life. Many of us feel the pressure to "move up" the org chart at work, to become managers at some point, and we may hear or feel that if we haven't moved up after a certain amount of time, we've failed. But managing is just a different kind of job that you may or may not want, and requires different skills and goals. It
is
possible to be a leader without being a manager.
·
Engaging Public Librarians in Access to Justice. This was sponsored by the Government Law Libraries section, and discussed ways law librarians, who may not always be the first point of contact for a person in need of legal help, can get non-law public librarians on board. Much of the conversation centered on programs to educate public librarians about the self-help resources and organizations they can direct patrons to, and how to make librarians feel confident that they
can
help in significant ways that don't cross into unauthorized practice of law.
I also went to a couple of roundtables, including one where I got to meet other archivists in law libraries. We're a small percentage of the law librarian world, so it was wonderful to have the chance to meet a roomful of them.
And because the beauty of conferences-- the opportunity to meet people, learn new things, and share ideas at a slightly alarming pace that still manages to be incredibly friendly and engaging-- can be a lot to handle in some moments. I'd like to point out the forethought and kindness of whoever decided AALL needed a Quiet Room. It was a lovely, restful space which, in my opinion, recognized the different needs of attendees and enabled a better appreciation of the general bustle of the conference.
So, long story slightly shorter: D.C. is a neat place to be, I learned a ton of new things on a wide variety of topics and met even more new people. And I am very grateful for the opportunity to attend AALL this year.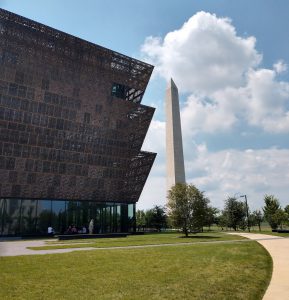 And here's another picture! I finally got to visit the National Museum of African American History and Culture (which opened in 2016 and has been packed every day since then, as far as I can tell), and it was every good thing that's been said about it. The bottom concourse levels show the history of African Americans from 1400 or so to the present, and the upper floors are busting with music and arts and other things I didn't have time to fully appreciate before I left D.C. on Tuesday. But anyway, if you get the chance, get there.