Submitted by Anthony Brown Ikwueme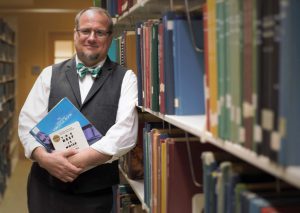 Thomas Walker is the new associate librarian for collection management with the Ehrhorn Law Library at Liberty University School of Law. He holds a Bachelor of Science in Music with emphases in Double Bass Performance, Music Composition, and Media Studies; additionally he holds, a Master of Science in Library Science from Clarion University and is completing his doctoral dissertation in Higher Education Administration at Marshall University.
Prior to joining the world of academia, Thomas was a television news director and worked for NBC. He has also freelanced for MSNBC, Fox News, ESPN, and NASA.
His experience with copyright covers three major areas of user (television news), owner (composer and musician), and lender (librarian). He has presented on copyright and recorded media, copyright issues with printed scores and copyright and music collections in the modern library.
Thomas was a member of the Copyright Compliance Team at Marshall University; a member of the Copyright Committee with the Association for Recorded Sound, and the Music Library Association. In addition to his committee work and presentations, Thomas worked directly with Dr. Júlio Alves on copyright clearance for several of his publications as well as assisted with mechanical rights for several Marshall University recordings. He also served as an administrator for the Marshall University Institutional Repository, Marshall Digital Scholar, where he worked exclusively with authors and publishers to obtain republishing rights for their scholarly output, which he feels, is paramount for the modern library.