submitted by Gail Warren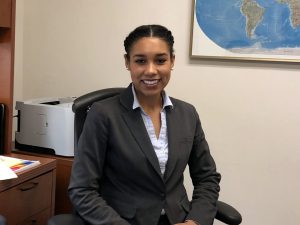 On February 25, 2019, Kelsey I. Cox joined the Virginia State Law Library as our new librarian.
Kelsey is from Chicago, Illinois, and currently lives downtown in Richmond.
In her free time, she enjoys practicing yoga, painting, playing the piano, and hiking.
Kelsey attended Lake Forest College, graduating in 2015 with a BA in Political Science and minors in Islamic World Studies and Legal Studies.
She earned the distinction of Phi Beta Kappa and was her school's first participant in its 3+3 BA/JD accelerated law program.
Kelsey graduated from Chicago-Kent College of Law in May of 2017 and is licensed to practice law in Illinois.
Kelsey also holds a MLIS degree from the University of Wisconsin—Milwaukee.
In her role as librarian, Kelsey will be sharing responsibility for staffing the Reference Desk and providing professional legal reference and research assistance to judicial branch staff, attorneys and the broader legal community, as well as members of the public who call or send us email messages.
She arrived on her first day of work with her own copy of
A Guide to Legal Research in Virginia
(2017) in hand, so she is familiar with the "ins" and "outs" of Virginia primary and secondary sources of legal information.
Kelsey's experience working on metadata projects with the Law Library of Congress to make
US Treaties and other International Agreements
available to the public has already proven to be invaluable as she assumed responsibility for our law library's participation in the Legal Information Archive.
Kelsey will be identifying, harvesting and ingesting judicial branch publications and other items for the Legal Information Archive, which migrated from OCLC's digital archive platform to Preservica in 2018.
Later this year, Kelsey also will begin working on content for the
Virginia Judicial System Court Self-Help
website, which is hosted by our law library on behalf of the Virginia Access to Justice Commission.
Please join us in extending a warm welcome to Kelsey and look for her at the VALL meeting in May at Hunton Andrews Kurth!